Hydraulic Rock Breaker
---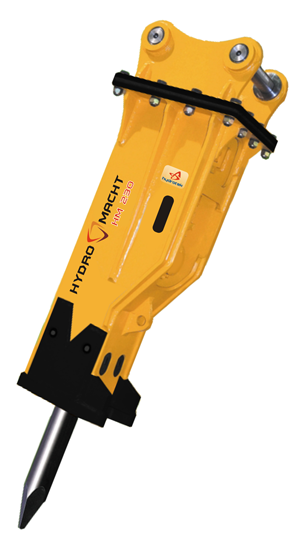 Hydromacht is a well known brand of Hydraulic Rock Breakers in India. It is a one stop solution to all your needs concerning Hydraulic Rock Breakers. Hydromacht is known for its power, efficiency, reliability and has a proven track record in the industry.
Hydromacht Breakers is available in variety of sizes and models which is suitable for base machines ranging from 0.7 ton to 100 tons. With our high quality and excellent services records, we are the first choice in the field of Hydraulic Rock Breakers used for Mining and Heavy Machineries Equipment Market.
Hydromacht Breakers can withstand continuous breaking in harsh and extreme environments. Higher strength allows us to use plate steels construction, i.e. you get the highest quality in breakers and the power to weight ratio and the efficiency is also increased drastically.
Hydromacht Breakers find its use in variety of applications
Secondary Breaking in Mining or Quarrying applications
Breaking in demolition
Trenching
Preventing blockage in Crushing Systems
And many more heavy, tough and time critical applications.
Features:
---
HM hydraulic breakers have 12 ranges of operating weight from 100kg to 7,000kg suitable for base machines up to 90 tons such as Skid Steer Loaders, Backhoe Loaders & Excavators.
Air intake system offers long service life for major consumable parts such as bushings & retaining pins due to proper lubrication & air cooling during operation.
Variety of options for different applications (Auto Grease System, Underwater Kit, Soundproof Kit, Tunneling Kit & Water Jet Kit).
Unique design for housing bracket along with damping systems prevents damage of excavator & free maintenance operation.
The selector system for Auto Stop & Auto Idle is providing less trouble & maintenance cost even in tough conditions jobs.
Extended durability, efficiencies & service life, with low cost maintenance and trouble free. Higher impact rate and low vibration thanks to new design of through bolts & piston.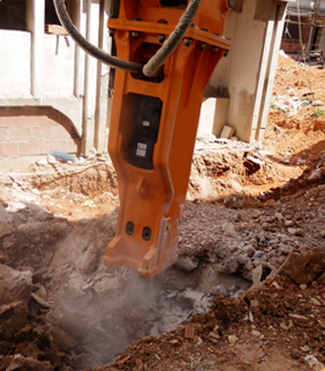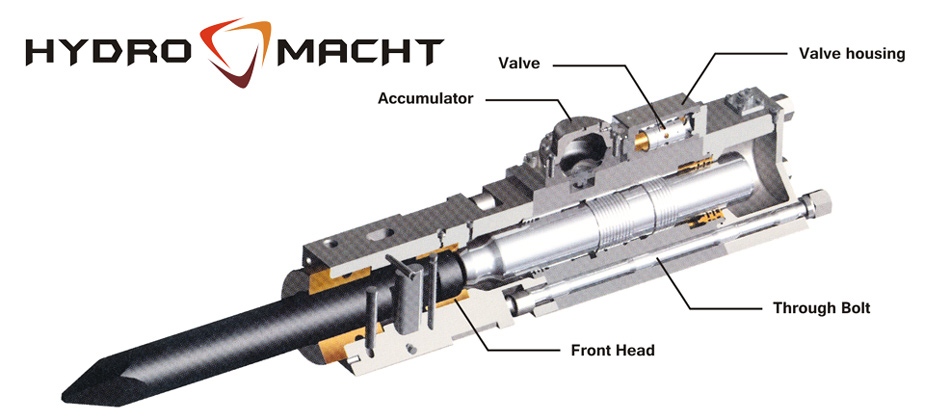 Section View of Hydromacht Breaker
Specifications:
---
Descriptions
HM 10
HM 30
HM 50
HM 60
HM 120
HM 160
Operating Weight
KG
135
178
345
425
920
1,260
Overall
Height
with mounting bracket
mm
1,000
1,350
1,390
1,370
2,290
2,516
without mounting bracket
mm
1,000
1,190
1,390
1,370
2,020
2,150
Operating Pressure
bar
80-110
90-120
95-130
100-130
150-170
160-180
Required Oil Flow
lpm
20-30
25-40
30-45
40-80
80-110
90-130
Impact Rate
bpm
600-1,200
500-1,000
450-750
450-950
450-800
300-900
Tool Diameter
mm

θ

45

θ

53

θ

68

θ

75

θ

100

θ

120
Hose Diameter
inch
1/2"
1/2"
1/2"
1/2"
3/4"
3/4"
Recommended Base Machine
tons
0.7-1.5
1.0-3.0
3.0-7.0
5.0-9.0
9.0-14.0
13.0-19.0
Descriptions
HM 220
HM 230
HM 320
HM 420
HM 520
HM 720
Operating Weight
KG
1,590
1,735
2,460
2,730
4,450
6,910
Overall
Height
with mounting bracket
mm
2,754
2,830
2,951
3,280
3,770
4,320
without mounting bracket
mm
2,374
2,560
2,531
2,850
3,230
3,860
Operating Pressure
bar
160-180
160-180
160-180
160-180
160-180
160-180
Required Oil Flow
lpm
135-180
120-180
160-220
190-250
250-310
350-450
Impact Rate
bpm
300-650
350-500
200-500
200-450
150-350
120-320
Tool Diameter
mm

θ

135

θ

140

θ

150

θ

160

θ

180

θ

200
Hose Diameter
inch
1"
1"
1

¼

"
1

¼

"
1

¼

"
1

½

"
Recommended Base Machine
tons
18.0-25.0
18.0-26.0
28.0-36.0
32.0-45.0
45.0-65.0
62.0-85.0